ADT Monitored Home Security Systems Sudbury
Alarm Guard is committed to offering the most comprehensive home security systems to our customers in Sudbury, Ontario.

FREE Home Security
$1500 In Equipment
Fill out the form and an Alarm Guard specialist will contact you at the phone number provided.
Alarm Guard provide ADT monitored Home Security Systems that include burglary and intruder protection, fire and smoke alarms, health emergency alerts and much more. With the solid back up by ADT's six Monitoring Stations your home or business is in safe hands 24 hours a day. A consistent and very fast alarm response is possible because ADT Security professionals are well trained and only seconds away from contacting police, fire and hospital personnel located in Sudbury.
ARM YOUR HOME FROM ANYWHERE.
Arm your system from anywhere using your smartphone, tablet or computer. Now, you can check on the status of your security as easily as you check your email or texts.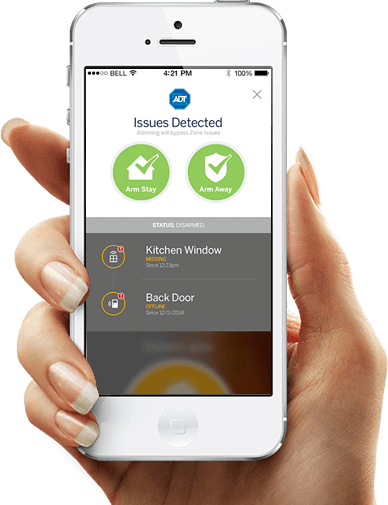 The wireless home security system installation and activation is very easy and can happen within 24 hours of you contacting Alarm Guard. Sudbury ADT Authorized Dealer, Alarm Guard Security, believes in responding quickly to your security needs and understands that sometime a quick and efficient wireless security system is all what is needed to meet your customized requirements. Please call today to find out that:
When it comes to your family and your business, you can't put a price on the value of safety, and at Alarm Guard we don't expect you to. That is why we are committed to providing  Sudbury with the best home security services at the most affordable prices. For a little more than a $1 per day, you Sudbury help keep your family safe and secure with Canada's #1 provider of ADT monitored home security systems. Help protect your home with the same technology used in most of Canada's banks, airports and federal buildings, by contacting one of our area security experts today.