Senior Tips From Falling – Safety Is a Choice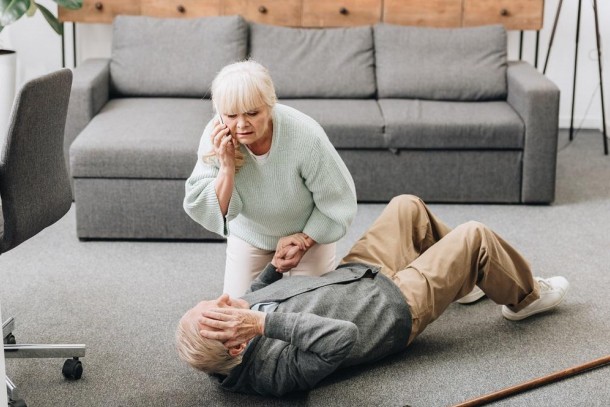 Before we even look at how to prevent or help reduce falling, we need to fully understand why older people are more prone to falling. There are so many causes of falling, it is important to understand them before we can reduce the risk.
Let's take a look at some possible reasons why a person could fall so we can truly understand what steps can be taken to reduce the chances of falling and seriously injuring yourself.
Slippery when wet or otherwise..
Often bathrooms can be hazardous due to being slippery which leads to a loss of traction or footing. Many times this can be helped by placing an anti-slip mat on the floor of the bathroom. As easy as this sounds, many seniors across Canada continue to injury themselves due to not having anti-slip mats in place near toilets as well as inside and out of bathtubs.
No matter the age, gender or strength of a person, if the floor is slippery, there is really nothing much you can do to prevent a fall. The problem is when a senior falls it could be much more dangerous including any extended recovery the body may need.
Avoid The Obstacle Course..
Another good cause for falling is tripping on something. So many people have tripped over carpets, children's toys, shoes , phone cords, or anything in their path.
Ensure your home is tidy and organized as much as possible. Making sure your carpets are not loose or rippled is important. Carpets in traffic areas tend to be a problem and get in your way when walking.
If you have children or grandchildren, get them to store their toys away after use. There really is no age for people who play with toys. 🙂 My wife often refers to the remote control as my biggest toy.
If you use the staircase at home, always have one hand on the handrail and always be careful. Prevention is better than cure. Being mindful of where you are going and what you are doing is the first line of defence against falling.
Aging Safely
Aging is beautiful, but we have to admit that things generally slow down as we age. Our reflexes can become much slower, strength and balance can become less stable. This is primarily due to the lack of exercise we initiate on a daily basis.
Our senses tell us to rest more which causes less movement and less overall cardio exercise. It is highly recommended to keep active, moving, stretching our bodies as a regular daily activity.
Seeing Is Believing
We often negate or accept having vision problems, so many accidents have taken place on the road and at home involving seniors with issues seeing properly. Depth perception is a major cause of falling at home, possibly missing that last step on the stairs or running into objects that seem further than they appear.
Scheduled visits to a vision care specialist is important and should not be missed. Your balance and safety can be highly increased when you can rely on your vision for guidance.
Unfortunately we are all scheduled for a nasty fall in our life, no matter our age, physical type or how safe we try to be. With that in mind, it is highly recommended to carry a personal emergency response device if the emergency ever arises.
Senior Protection can help, with over 19 years of experience keeping people safe across Canada.
Our medical alert device is absolutely free when you sign up for any of our monitoring plans. Simply pay for the service and stay safe..
Contact a life safety representative today..
1 866 416 0838