AG Summer Opportunity For Students 2022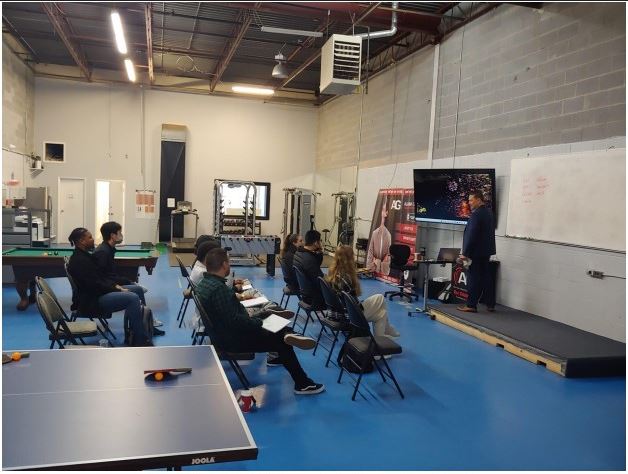 With the exception of 2020 and 2021 due to the covid19 pandemic, Alarm Guard Security has been creating opportunities for students in Canada for summer employment since 2005. The program was created to offer  students the ability to learn new skills and create an unlimited income during their time off from school over the summer.
AG hosted the first open house for our student summer program on April 14, 2022 which was the first of 3 on boarding sessions available to students to come and see what the program is, and how it works. The first of three open houses became evident of its success when all 6 students who were invited to attend have successfully committed to start our training program scheduled on April 25, 2022.
First impressions ? Absolutely astonishing.. It was a pleasure to meet such ambitious students that were goal oriented and having such direction for their future endeavors. This was evident throughout the afternoon, when the students performed in scheduled events that were created to allow the candidates to display their attributes. It was impressive to see the young adults in action, and how well prepared they were thus far for the entry into careers that will soon come for them.
Training & Development:
Alarm Guard Security offers students full training and development throughout the summer, it starts with in class training with the inception of service and product knowledge in the field of safety & protection. Students learn the skills necessary to properly consult homes and businesses for smart protection and automation. They receive the knowledge necessary to confidently utilize the skills learned to master the art of negotiation. Something that is priceless and can enhance their value for the future, no matter what path they may choose.
Instilling confidence in all our staff is the major focus throughout all our programs. This becomes extra special when we train new recruits through our student summer programs. The program can be summed up by the following  keywords, confidence, value and determination.
Based on the recruits who attended our first open house for 2022, we anticipate this summer to be one of the best and most promising experiences ever for the students and Alarm Guard. We are extremely excited to see how the bright young minds perform and how they evolve from the change of working through their computers at home and back to the human connection of interaction.
Many of us are still assimilating from the unnatural effect that covid19 has bestowed upon us, and back to the in person communication we have missed so much.
AG will be hosting two more open house events for entry into the student summer program of 2022. All students interested in learning new skills, building value within themselves and learning the disciplines needed to be  successful in the industry should contact our recruiter Nikita Chaudhary.
Nikita works out of our sales and recruitment office located at 153 Bridgeland ave, unit #11 North York ON, M6A 2Y6. Feel free to come by and introduce yourself or call her directly at 1 866 282 3331 Ext: 115.
If you're looking for a unique opportunity to sharpen your skills, teach you how to bring out the best of yourself and prepare you for success ? Contact us today to see what opportunities possibly await you.
No matter what the future holds, Alarm Guard wishes you a bright and successful future.
Alarm Guard Security
1 866 282 3331