Alarm Guard Security Says "Protect Yourself From Covid19 Scams"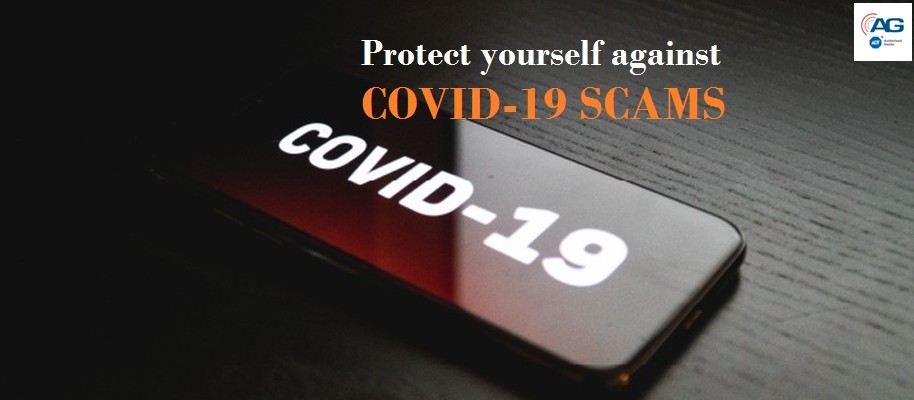 Alarm Guard Security is a professional company that offers smart home security and home automation services. Our commitment to protecting families and homes across Canada is through alarm systems and automated devices that offer peace of mind. During this trying time we would like to spread some awareness to people and offer knowledge and power so they may combat these scammers and phishers who have been stealing from other people.
It's hard enough worrying about such a terrible pandemic and the safety of all our family and friends, so today we want to express our concern regarding the fraudsters who try and profit from consumer fear. Recently there have been reports of scams regarding the subject on Covid19 and preying on people who are simply not informed enough to know any better.
Trending Covid19 Threats & Scams
The most important thing you must understand is if you didn't initiate contact, you don't know who you're communicating to. Scammers can contact you in two major ways.
1. Phone calls
2. Phishing emails
Remember the number one goal of these con artists is to retrieve something from you from the initial point of contact. The whole reason for them contacting you is to hook you into either giving them money quickly or relinquishing your personal or financial details. The most important thing to remember is to always do your research and never feel pressured into making a decision on the spot. They create an urgency and that is how most people get suckered into handing over money for absolutely nothing.
Here are a few examples of scams that have been known to work against the elderly or people that panic.
"There have been documented cases where someone will call and represent themselves as the electrical company. They will say that your electricity has not been paid and will be turned off unless you pay immediately."
"Other cases involve people calling and representing themselves as the authorities and saying that there is a warrant out for your arrest. They proceed in telling you that an amount must be paid in order to remove the warrant."
The most recent phishing attacks and scams during the Covid19 pandemic are as follows and listed by the Canadian Anti-Fraud Centre. Please BEWARE and never allow anyone to take advantage of you or your family.
BEWARE OF THE FOLLOWING:
Spoofed government, healthcare or research information
Unsolicited calls, emails and texts requesting urgent action or payment and/or offering medical advice, financial relief, or government assistance and compensation

If you didn't initiate contact, you don't know who you're communicating to
Never respond or click on suspicious links and attachments
Never give out your personal or financial details

Unauthorized or fraudulent charities requesting money for victims, products or research

Don't be pressured into making a donation

High-priced or low-quality products purchased in bulk by consumers and resold for profit

These items may be expired and/or dangerous to your health

Questionable offers, such as:

miracle cures
herbal remedies
vaccinations
faster testing

Fake and deceptive online ads, including:

cleaning products
hand sanitizers
other items in high demand
Always remember that whoever is calling you can tell you anything but it doesn't make it true or accurate. Without giving in to their requests and simply doing a little research can easily eliminate losing your money on your part. Again it all comes down to them creating urgency and at times they can become very aggressive. Do not get suckered into their tactics and remember that they professionally do this for a living and many times they are calling from some other country.
Who Are These Fraudsters Posing As ?
Loan and financial service companies

offering loans, debt consolidation and other financial assistance services

Cleaning or heating companies

offering duct cleaning services or air filters to protect from COVID-19

Local and provincial hydro/electrical power companies

threatening to disconnect your power for non-payment

Centers for Disease Control and Prevention or the World Health Organization

offering fake lists for sale of COVID-19 infected people in your neighborhood

Public Health Agency of Canada

giving false results saying you have been tested positive for COVID-19
tricking you into confirming your health card and credit card numbers for a prescription

Red Cross and other known charities

offering free medical products (e.g. masks) for a donation

Government departments

sending out corona virus-themed phishing emails
tricking you into opening malicious attachments
tricking you to reveal sensitive personal and financial details

Financial advisors

pressuring people to invest in hot new stocks related to the disease
offering financial aid and/or loans to help you get through the shut downs

Door-to-door sales people

selling household decontamination services

Private companies

offering fast COVID-19 tests for sale
Firstly, only health care providers can perform these tests and no other tests are genuine or guaranteed to provide accurate results. Secondly these fraudulent products that claim to treat or prevent the disease are simply NOT TRUE and any unapproved drugs can threaten your health and simply violate federal laws.
Knowledge is power.. and the more information you have will help you be prepared to shut the door against these low life scammers and predators. If someone calls me and tells me that I have a warrant out for my arrest ? The first thing I would do is hang up and call my local police station. Let's face it, any warrant out for arrest would mean police at your door or a call for you to come in to your local station, NOT give or pay money over the phone.
If someone calls and says they are from the electrical company ? Hang up and call your electrical company and ask them if you owe money. Chances are you won't be the first person to call them and ask, they may even tell you they have received a large amount of calls regarding the same scam.
Please be careful and stay strong during these extremely hard times. Your safety is important and the more informed you are with current events will give you all the power to fight against these attackers. It is absolutely frustrating to see people taking advantage of other people during this time, but together we can stay informed and be protected.
SAY YES TO PROTECTION & STAY SAFE CANADA…
FROM THE ALARM GUARD FAMILY
● HOME SECURITY & AUTOMATION
● DIY SECURITY (NO TOUCH INSTALLATION)
● SENIOR PROTECTION MOBILE MEDICAL ALERT