Can You Control Your Security System From Your Wrist?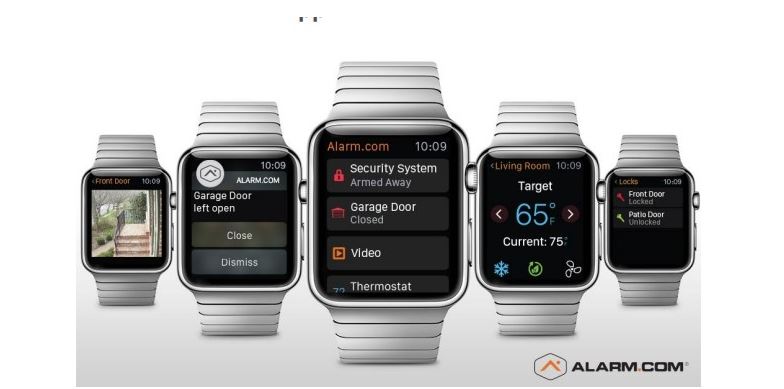 As strange as that may sound, the simple fact is you can. At least if you recently were installed with a smart home security system by Alarm Guard Security. This is all made possible by the smart app platform that powers the
smart home security system through Alarm.com.
If you are an Apple Watch user and are looking for ways to connect with your  smart home system, then you are at the right place. Alarm Guard Security sells, services and installs smart home security compatible and exclusive with
the amazing Alarm.com protocol.
What Can Apple Watch Users Control ?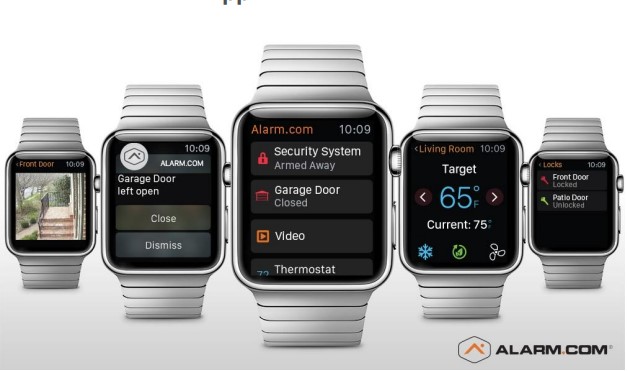 Users can control all of their connected devices, including the security system, thermostat, lights, locks and garage doors from the Apple Watch. The Alarm.com app for Apple Watch offers a Glance for a quick view of the status of the security system, locks and garage door, and users can easily see what's going on at home with live video feeds right on their wrist.
The Apple Watch-supported features make connecting with home or work as easy as checking the time, with alerts, video clips and a full range of smart controls accessible right on your wrist. Note: This app requires a compatible system and an interactive Alarm.com service plan.
A Message From The Chief Product Officer @ Alarm.com
"Alarm.com is excited to deliver one of the first native apps for the Apple Watch," said Daniel Kerzner, Alarm.com's Chief Product Officer. "Our app uses the new capability and unique form factor of Apple Watch to enable great
use cases for today's multi-device Smart Home through an efficient and intuitive user experience. As leaders in the smart home space, Alarm.com is focused on delivering innovative, first to market solutions that connect consumers to their home in new ways, today and tomorrow."
Alarm.com combines reminders, alerts, and automation triggers to make it simple to keep the smart home secure while on the go. Location-based reminders alert the homeowner if they forgot to arm the security system, lock the door or close the garage. A single tap on the alert resolves the problem. Alarm.com amplifies a single action on the watch into a series of responses all across the home. Arming the security system can trigger the lights and thermostat to adjust for efficiency, the garage to close and doors to lock.
Getting Started With No Upfront Cost On Smart Home Equipment Today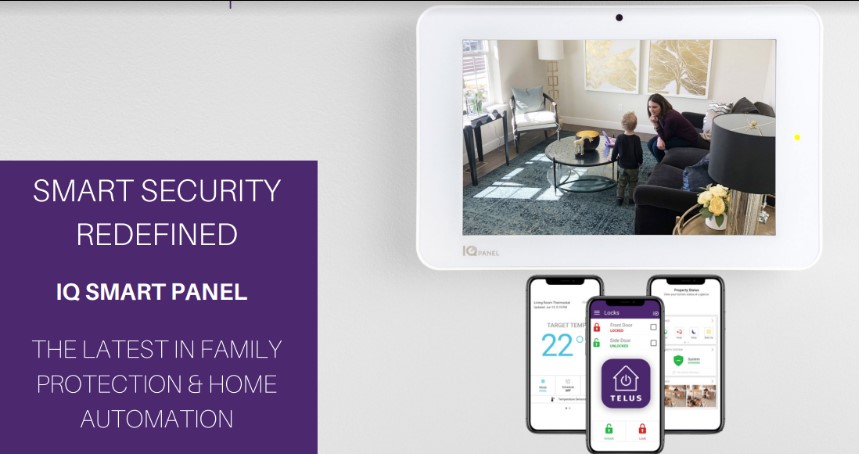 Alarm Guard Security is your local TELUS Trusted provider protecting families across Canada. Getting protected and making your home smart is an easy phone call away. Simply choose the smart security package that suits your needs and receive no cost equipment depending on your package chosen. A certified technician will come to your home to install and set you up at no additional costs.
Contact us today for a no obligation quote and more information on the selected plans that will suit your needs for smart protection.
1 866 282 3331