Safeguarding Your Business: Key Safety and Security Solutions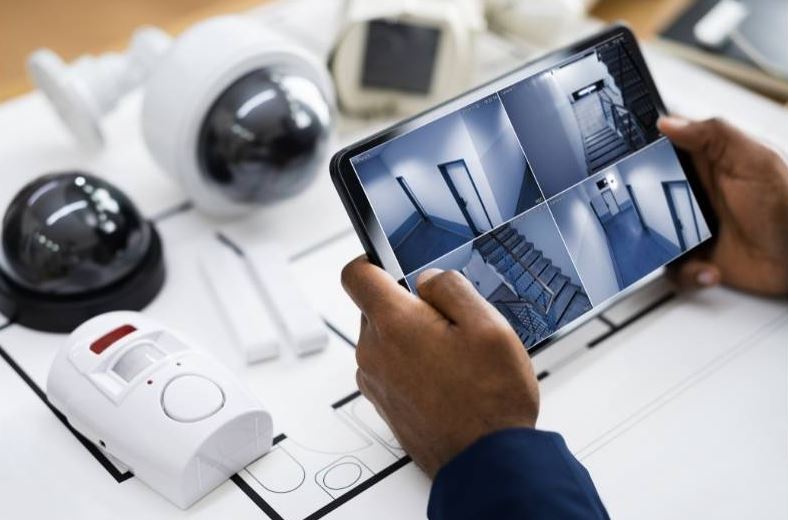 When you think of superheroes who keep our cities safe, you might picture capes, secret identities, and extraordinary powers. In the world of business security, our heroes are CCTV cameras, alarm systems, and automation solutions. And we, at Alarm Guard, are dedicated to being your trusted allies in keeping Canadian businesses secure for over two decades.
The world is constantly evolving, and as it does, the security threats faced by businesses are also on the rise. Break-ins, vandalism, and unauthorized access are just some of the risks that organizations need to be aware of and take precautions against. These threats can have severe consequences, leading to significant financial losses, damage to property, and even harm to individuals. The impact of such disruptions can be far-reaching and result not only in financial damage but also reputational harm, loss of customer trust, and legal consequences. Therefore, it is essential to implement robust security measures, such as access controls, surveillance systems, and employee training, to safeguard your business from these potential threats. By proactively addressing security concerns, you can ensure the continuity and stability of your operations, protect your assets, and maintain the trust and confidence of your stakeholders.
How to Keep Business Threats at Bay (the Clever Way)
Knowing how to cleverly handle threats in business is really important. It's like protecting your valuable stuff and making sure your money stays safe. Plus, it helps your business keep a good reputation, stay open for business even when bad things happen, and follow the rules. When you're good at handling threats, you can also change and grow with the times, and people will trust you more. So, it's not just about staying safe; it's about being strong and successful in the business world, let's talk about the most important things to need to take into account to secure your business:
 1. Surveillance Systems: The real Most Valuable Player (MVP) when it comes to security. These systems provide an extensive network of eyes, ensuring that you have complete coverage and don't miss any important details. And let's be clear, we're not referring to being a creepy peeper. We're talking about professionally installed surveillance cameras that are strategically placed to capture every movement and serve as a strong deterrent against potential threats. With surveillance systems in place, you can have peace of mind knowing that your property and loved ones are well-protected.
2. Automated Security: Experience the convenience of automated security systems that work like magic but without the need for a wand. Take control of your security settings, lighting, and even temperature with the power of automation. Not only does this technology enhance safety and provide peace of mind, but it also helps you save on energy bills by efficiently managing your home's energy consumption.
3. Personalized Alarm Systems:  In today's evolving business landscape, you need to have a security system that is specifically designed to meet the unique needs of your business. Our custom-tailored solutions take into account the size, location, and industry of your business to provide you with the most effective security measures. With our personalized alarm systems, you can have peace of mind knowing that your business is protected 24/7. Additionally, our team of experts will work closely with you to understand your security concerns and develop a comprehensive security plan that addresses all potential vulnerabilities. By choosing our personalized alarm systems, you're not just investing in security, but also in the feeling of being valued and special as we prioritize your individual needs and requirements.
4. Regular Maintenance: It is crucial to prioritize regular maintenance tasks to ensure the optimal performance and longevity of your systems. By conducting routine check-ups and keeping your systems up-to-date, you can proactively identify and address any potential issues before they escalate into major problems. This will not only help you avoid unexpected breakdowns but also ensure that your systems are functioning at their best, providing you with peace of mind and uninterrupted operations.
Alarm Security Systems: Your First Line of Defense
Alarm systems are quick to notice if someone is trying to break into your business that's why alarm systems are like your trusty guardians. When they sense trouble, they sound alarms and send alerts to the right people, like security staff or the police. This swift response can stop theft, vandalism, or other bad things from happening.
These systems also make potential troublemakers think twice, when they see an alarm system in place, they're less likely to try anything sneaky. Modern alarm systems do more than just guard against break-ins, they can also keep an eye out for things like fires, floods, or extreme temperature changes. This early warning can help prevent disasters and save lives.
Alarm systems work well with other security measures, like security cameras, access control systems, and special lighting. When they all work together, your business is extremely secure.
You can control and monitor these systems from afar, thanks to smart technology. Using your phone or a computer, you can stay connected and react quickly to any alarms, even when you're not at your business. 
Another benefit of having an alarm system is that you can even save money on insurance. Insurance companies know that alarm systems make your business safer, so they often give you a break on insurance costs. Plus, knowing your business has a dependable alarm system provides peace of mind to both you and your employees. It means your workplace is safer, even when no one is there.
In short, alarm security systems are like the superheroes of business security, offering protection from a range of threats. They detect intrusions, deter troublemakers, and warn about environmental dangers. They can be controlled remotely and play well with other security tools, all while potentially saving you money and giving everyone peace of mind.
As a company dedicated to providing cutting-edge security solutions, we recognize the critical importance of ensuring the protection of your business. Our team is ready to collaborate with you in establishing a level of security that not only meets but exceeds your standards. 
With our security systems as your shield, you can concentrate on keep your business growing towards prosperity while resting assured that your safety and security requirements are entrusted to experts. Your tranquility is our promise, and the security of your business is our commitment.
Contact us at Alarm Guard Security today and find out how you can start safeguarding your business the way it deserves.  Call now 1 866 282 3331 and ask to speak with a business security consultant.